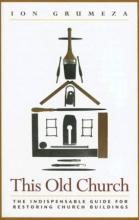 Old church buildings are landmarks in towns and cities. Time, weather, wear and tear, and faulty patch-up jobs take their toll on the venerable structures, and at some point repairs can no longer be postponed.
This Old Church: The Indispensable Guide for Restoring Church Buildings describes the logistical procedures to be followed before, during, and after the restoration process, including advice on how church restoration committees should relate to contractors, to their congregation, and to the public.
Ion Grumeza, an immigrant specializing in restoring old churches, explains that the first step in repairing, preserving, remodeling, or historically restoring a vintage church is forming a church committee. Drawing on his fifteen years of experience, he offers suggestions on the role of the restoration committee, prioritizing problems, and supervising the restoration work. He explains, step-by-step, how to evaluate and handle a wide range of often complicated and costly projects, ranging from the steeple to the foundation.
Photographs illustrate before and after restoration projects.